Hello friends all are still with me Ade prayoga. This time I will provide information about a very interesting project for you to see in the new cryptocurrency named Moozicore. Before heading into the discussion I think we all agree that blockchain technology still requires efforts that encourage adoption to continue to grow and continue to grow in the future. Introduction
In our age, the "narrowness" of the world is very difficult to find a get-together for interests. Including in terms of music. Different directions, movements, trends - on the one hand, all this creates a wealth of choice, on the other hand, it deprives fans of direct communication among themselves.
At the same time, we hear music every day in various public places: cafes, restaurants, bars, gyms. So why not make this music "ours", turn these places into those who can meet fellow "misfortune" (just kidding, of course, supporters of interests).
Moozicore
is an application in your smartphone that will turn any public place connected to this service into a real fan place. Just imagine - two clicks with your finger and the background music turns into yours, from the playlist !
So, well, we have dealt with our interests, but why the owners of institutions can go for it - read below.
Moozicore Features
So for us it is simple and easy. We found an institution with "our" music genre next to us, headed there, "refueled" the application with tokens and enjoyed it. But why the owners of such a service?
First of all, it seems to an ordinary man in the street that the sphere of service is such a simple and easy business. He took, built a cafe, hired cooks and waiters and the business went. In fact, it all depends on the area, concept, menu, and many more factors. And not always, even if everything is thoroughly calculated, the income level of the institution meets the requirements of the owner.
Moozicore can easily redirect visitor flows to places that were not previously in demand . No, he can't solve the problem of a bad cook and a diluted beer, but he can try to fix it and point out the most pressing problems. Without visitors, or rather, without their flow, it is very difficult to identify other problems.
Now, the owners do not have to steam with the concept. We bought sound equipment (if by some miracle it is not there), decided on the genre and go ahead - catch a new stream. Hold? Well, it's up to you. There you can adjust the concept and so on.
Don't know which genre to choose? Connect everything. Then you will see that your visitors prefer and decide with the genre. And maybe they will remain - an omnivorous musical institution, why not.
Another thing that it gives us in terms of marketing. To order a song or vote for the order, you need Moozicore tokens. A small part of the platform takes - most of us go into our pockets. What can we do about it? Sell ​​on the stock exchange - good. But why not make bonus hours, days when, in addition to lunch, our visitors will receive a pack of tokens as a gift ? Feel the power of marketing?
Well, here, I think, everything is quite clear, therefore, we proceed to the ICO project.
Ico moosicore
Token: MZG ( ERC20 standard)
1 MZG is equal to 0.025 USD
Soft Cap - 266 million MZG
Hard Cap - 664 million MZG
1 billion of all issued MZG plan to distribute as follows:
50% sale on ICO;
20% referral and bounty
14% project team;
11% conversion to MZI;
5% bonuses.
All funds raised will be used for the following purposes:
45% on the marketing platform;
35% optimization and development of the platform;
15% - licenses;
5% - legal expenses.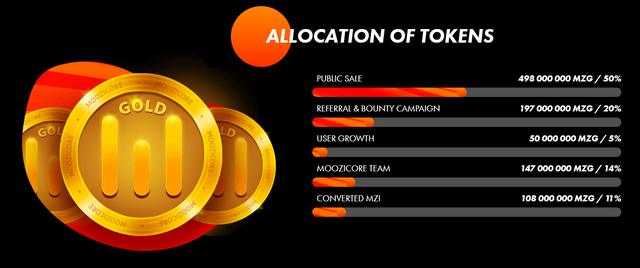 Moozicore is a very interesting project on the blockchain. Connecting the service and customers is as simple as putting a game on a smartphone. I think that this platform will definitely find a response from the owners of various establishments and their visitors. And more about the project you can learn, as always, from the links below.
This is what I can say in my explanation on this blog. If you need accurate and reliable information, you can visit their official link, which I provide below:
Username: dey90
BTT profile: https://bitcointalk.org/index.php?action=profile;u=731808
0x5c582DE6968264f1865C63DD72f0904bE8e3dA4a